About John Lessels Landscapes
Our Approach and Experience
with a pedigree of high quality workmanship and attention to detail
Experience counts for everything. We have the pedigree to show this with a wide range of landscaping customers and clients throughout Edinburgh and the Lothians over the last 35 years. Our experienced team of landscapers are fully qualified in all forms of garden construction, allowing us to complete jobs to the highest standards.
We pride ourselves on high quality workmanship with an acute attention to detail and have worked on large and small scale landscaping projects throughout Edinburgh and the Lothians managing projects from the inception to completion.
Whether you're looking for something to make your outdoor space more at one with the rest of your home or increase your privacy and security, John Lessels hard landscapes services can provide the perfect solution. As attractive as they are resilient, our garden walls are sure to stand the test of time as well as being a beautiful addition to your home.
For over 40 years, John Lessels landscapes have been meeting the highest standards of landscape design and exceeding the expectations of our customers located throughout Edinburgh and the Lothians.
Our Hard & Soft Landscaping Services
Our hard landscaping service includes new driveway paving, replacement patios, paths and retaining walls to complete garden redesigns. Our friendly, cheerful approach ensures an efficient, reliable service is provided, with minimal disruption to your daily life.
Our soft landscaping service includes planting, seeding, garden maintenance,  lawn care, lawn maintenance, lawn treatment, lawn mowing service and turfing.
John Lessels Landscapes were awarded a "Best Driveway" award by Marshalls, one of, if not the leading supplier in stone for driveways and paths in the UK. We were also recognised as being a long standing installer on the register, for 10 years, much longer than any other Edinburgh Driveway Specialist
Our strengths most definitely lie in giving a one-to-one service. We work with a varied type of customer from simple driveways through to complex projects which provide us with some fairly challenging prospects, but we always work and strive to deliver the highest possible quality product for you. We are experienced and work very much as a team, with our landscapers and maintenance guys all instilled with the same belief – do a good job for someone and what goes around comes around, we wouldn't be one of Edinburgh and the Lothian's leading landscaping contractors if we left less than satisfied customers.
We are a family-run, friendly and cost-effective solution to your landscaping needs and we can also advise on planting, patio design, types of paving and driveway material to use.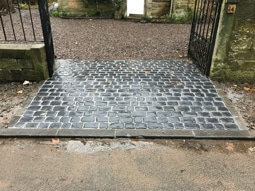 With a strong team of landscapers and maintenance gardeners at John Lessels Landscapes, we deliver services for a large diversity of commercial clients, from regional health services through to universities and colleges and care homes through to housing associations. 
If you are seeking to engage in reliable and stable landscaping and garden maintenance experts, then consider us – we have the resource to deliver on contracts and this is reinforced by tremendous client loyalty to our business. 
We reciprocate this with a professional and cost-effective delivery of the contract also with flexible working arrangements to suit your needs as and when you require our help.
Interested in our landscaping services? Get in touch for more details